Wyoming Cloud Lidar Page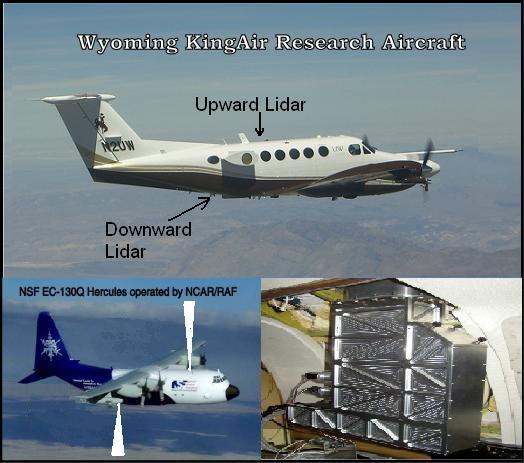 The Wyoming Cloud Ladar (WCL) is an airborne observational system for the study of cloud structure and composition. It is installed principally on the University of Wyoming King Air, but can also be flown on the NSF/NCAR C-130 research aircraft. Operating at 355 nm (WCL-I) and 351 nm (WCL-II) wavelength, the lidar provides high spatial resolution cloud base measurements, as well as cloud and aerosol extinction coefficient and depolarization profiles. Coupled with the in situ observations of hydrometeors and air motions from the same aircraft these data yield unique information for analysis of cloud and precipitation processes.
The WCL may be made available to users of the University of Wyoming King Air or NSF/NCAR C-130 through the NSF allocation process or by special requests.
The lidars were developed by Remote Sensing Group in the Department of Atmospheric Science of the University of Wyoming.
Major funding for the acquisition, development and research use of the WCL has been derived from NSF, ONR, NASA and UW.
History




The WCL-I (upward pointing) was developed in 2007 and has been successfully deployed and tested on the UWKA during the Wyoming Airborne Integrated Cloud Observations Experiment (WAICO) in 2008 and 2009, and on the NSF/NCAR C-130 during the Ice Clouds Experiment-Layer Clouds (ICE-L) in 2007.Until now, it has been deployed in a series of projects.

The WCL-II (downward pointing) was developed in 2008 and successfully tested during the WAICO09 experiments.

In 2011, the WCL-II was upgraded by adding two new receiving channels which can enlarge the dynamic range of the receiving signals.
Citation
University of Wyoming - Flight Center, 2007: The University of Wyoming Cloud Lidar (WCL). University of Wyoming, College of Engineering, Department of Atmospheric Science,
doi:10.15786/M25W9D
.
Format Citation (ReFindit). Download metadata: XML JSON
For further information concerning the WCL, please contact Dr. Min Deng